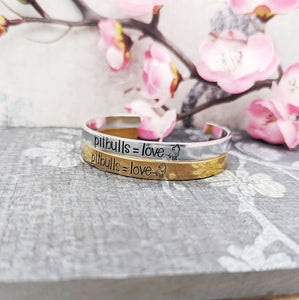 Pitbulls=Love Bracelet
$2500

$25.00
---
Anyone whose met a pit bull knows, all they want to do is love you!
Hand stamped cuff bracelet
Pictured: 1/4" x 6" Regular Cuff
Fonts will vary when different widths are selected
Important Note: Hammered and hand-stamped jewelry is only created once your order is placed.  Each piece will be unique and may differ slightly from the images shown.
---
---